The Library is open!
Curbside pickup still available. See the full details…
Hours
Monday: 12-7:30
Tuesday: 10-5
Wednesday: 10-2
Friday: 10-5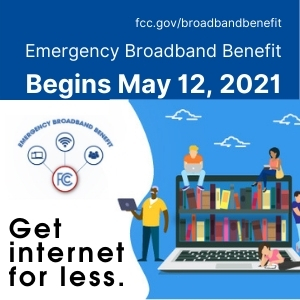 Get Internet for Less
Emergency Broadband Benefit begins May 12
This is a temporary FCC program to help families and households struggling to afford broadband internet service during the COVID-19 pandemic. For those who qualify, EBB provides:
Up to $50/month discount for broadband service;
Up to $75/month discount for households on qualifying Tribal lands; and
A one-time discount of up to $100 for a laptop, desktop computer, or tablet purchased through a participating provider if the household contributes more than $10 but less than $50 toward the purchase price.
Explore the Digital Library
Resources included with your library card…
What should I read next?
Search the library catalog.