Friends Book Club
Join us for the Friends of the Library Book Club (FOL Book Club)!
Book Selection:  THE TRAP

 

Location: Glenwood City Public Library

 

Time & Date: 7:00, JUNE 27TH, 2022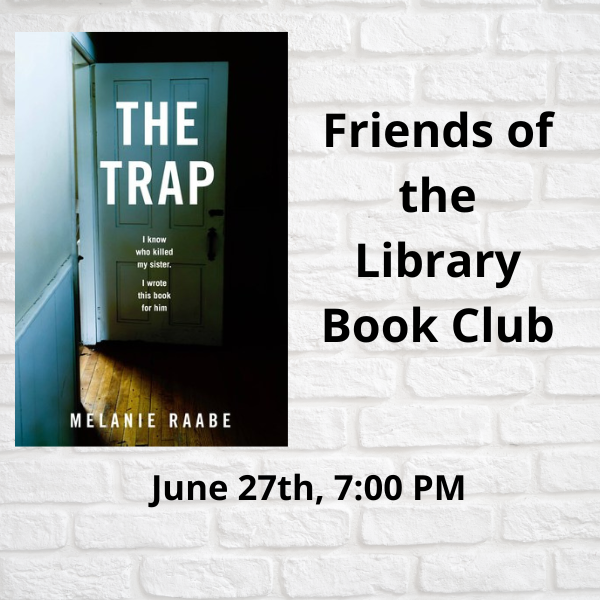 THE TRAP BY MELANIE RAABE
For 11 years, the bestselling author Linda Conrads has mystified fans by never setting foot outside her home. Haunted by the unsolved murder of her younger sister–who she discovered in a pool of blood–and the face of the man she saw fleeing the scene, Linda's hermit existence helps her cope with debilitating anxiety. But the sanctity of her oasis is shattered when she sees her sister's murderer on television. Hobbled by years of isolation, Linda resolves to use the plot of her next novel to lay an irresistible trap for the man. As the plan is set in motion and the past comes rushing back, Linda's memories — and her very sanity — are called into question. Is this man a heartless killer or merely a helpless victim?
Afternoon Book Club
Please come and join us for the Afternoon Book Club
Book Selection: Caste: the Origins of Our Discontents, by Isabel Wilkerson
Location: Julian Bender's: 229 Cherry St.; Glenwood City
Time & Date: 3:45 on June 28th
Afternoon Book Club
Join us for the Afternoon Book Club!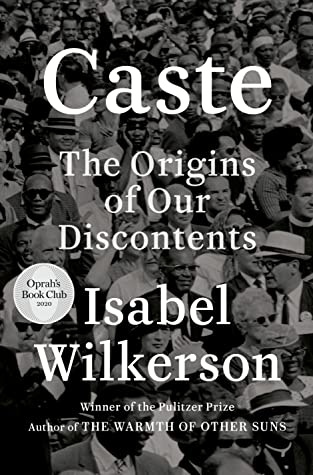 Caste: The Origins of our Discontents
June Book Description from Good Reads
The Pulitzer Prize–winning, bestselling author of The Warmth of Other Suns examines the unspoken caste system that has shaped America and shows how our lives today are still defined by a hierarchy of human divisions.
"As we go about our daily lives, caste is the wordless usher in a darkened theater, flashlight cast down in the aisles, guiding us to our assigned seats for a performance. The hierarchy of caste is not about feelings or morality. It is about power—which groups have it and which do not."
In this brilliant book, Isabel Wilkerson gives us a masterful portrait of an unseen phenomenon in America as she explores, through an immersive, deeply researched narrative and stories about real people, how America today and throughout its history has been shaped by a hidden caste system, a rigid hierarchy of human rankings.
Beyond race, class, or other factors, there is a powerful caste system that influences people's lives and behavior and the nation's fate. Linking the caste systems of America, India, and Nazi Germany, Wilkerson explores eight pillars that underlie caste systems across civilizations, including divine will, bloodlines, stigma, and more. Using riveting stories about people—including Martin Luther King, Jr., baseball's Satchel Paige, a single father and his toddler son, Wilkerson herself, and many others—she shows the ways that the insidious undertow of caste is experienced every day. She documents how the Nazis studied the racial systems in America to plan their out-cast of the Jews; she discusses why the cruel logic of caste requires that there be a bottom rung for those in the middle to measure themselves against; she writes about the surprising health costs of caste, in depression and life expectancy, and the effects of this hierarchy on our culture and politics. Finally, she points forward to ways America can move beyond the artificial and destructive separations of human divisions, toward hope in our common humanity.